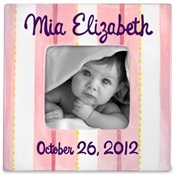 Before anyone else has this brilliant idea, get your friends or family members who are expecting the best gift of all: a baby hand print making kit. Little newborn hands and feet are so precious that there's no doubt the new parents will want to make baby hand prints starting right away. But it's important to buy the right kind of baby hand print making kit. You don't want to expose baby to toxic paints and baby hand print paints are designed to be both safe and easy to use when making baby hand and foot prints. Here are a few things to keep in mind as you look for a baby hand print kit.
Washable Ink
One way to get a great baby hand print is by using washable, non-toxic ink just like they use in the hospital when they make a foot print for the birth certificate. Make sure to keep the baby's hand held tightly when it's covered in ink, otherwise you'll have ink everywhere in no time. The ink you'll use will be black, which means you'll have a classic black and white baby hand print which will look great framed and used as nursery art or can be saved in a baby scrapbook.
Paint for Cute Colors
If you'd like a bit more flexibility in the baby hand print you make, use paint. Non-toxic paints are available in many cute colors. Remember, it should also be washable. You don't want baby's hand to stay blue or orange or yellow after you're finished making the baby hand print. If you want to really impress the parents, buy a paint color that will match the colors of their nursery theme.
Paper Types
It's important to use nice heavy paper, whether you use ink or paint, because it's got to soak up the paint or ink without curling or buckling. If you're planning to use the baby hand print as nursery art, be sure to get a number of pieces of nice heavy paper that will look good hanging on the wall. The fact is that you won't get a baby hand print right the first time. It's best to come prepared so you can give it a few tries.
Being Part of the Process
A part of your gift could be to help get that baby hand print to look just right. While you can make a nice little gift basket or gift package with the paper, ink or paint, and perhaps some wash clothes to use to clean baby's hands afterwards, you should also consider offering to help. Learn all you can about getting a baby hand print just right so that you're as helpful as possible to the new parents. They'll appreciate the time and effort, as well as the thought that you put into the gift of a baby hand print.
To find supplies to make a baby hand print, browse us. You'll find many gift ideas at great prices.