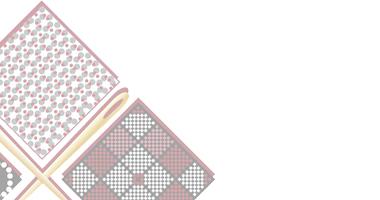 Quilting can be as simple as a wall hanging, a baby blanket, or a king size bed covering. Decide what pattern you want and what size that you want to work with. Fabric stores, in person and online, offer many patterns to peruse through. The internet is full of quilting ideas and how-tos, not to mention unique stores with everything you need to get started. It is also a great place to purchase supplies.
Know What You Need
Allow the appropriate space for the size of quilt you decide to make. The difference can be between a lap quilt or needing an entire room to set up a quilting rack.

Understand how to read the quilt pattern you have selected. Quilt patterns can be found by visiting you local store or at a reputable online source.

View an online tutorial, which youtube has a lot of great presenters to walk you through the process step-by-step, or find a local quilters group to find a hands-on experience.

Purchase the necessary quilting supplies for your project.
Pattern Selection
Quilt patterns can be simple fabric pieces sewn together in no particular order, pre-cut fabric pieces that make a design or a combination of fabric you cut to make the quilt pattern. You may even use old clothing to create a quilt of memories. Many stores off patterns as a free download or some exclusive designed that are available for purchase. A few different options for newbies that include (but are not limited to):
Baby Quilt Patterns

Baby Rag Log Cabin

Fancy Fox Pattern

Easy Quilt Patterns

Dashing Stars Pattern

Garden Party Pattern

Applique Patterns

Aloha Hibiscus Pattern

Home Sweet Home Pillow Pattern

Wall Hanging Patterns

Blessed To Be Canadian

Silhouette
Begin Quilting
You have selected your quilt size and quilt pattern, allocated your work space, purchased your fabric and quilting supplies, and now it's time to get started.