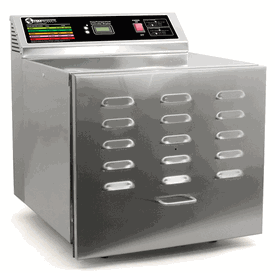 Food dehydrators are popular among people that enjoy dried fruits, nuts or meats. They have been used as a way to store foods for a long period of time without worry of them going bad. Dehydrators have developed over time to dry more food at a time. You can also dry various types of food at a time, with the right type of unit. Now they are designed to match the rest of your kitchen appliances so you can get a stainless steel dehydrator for your home.
Keeping Up with Fashion
Fashion has changed over the years, and the kitchen is one of the places that you may notice it the most. You used to find oranges and greens in the kitchen then things changed to whites or blacks, and some homes still sport white or black appliances. The most popular kitchen decor has turned to metallic, stainless steel being the metal of choice with the easy cleaning ability that comes along with it. It is no wonder that you can now purchase a stainless steel dehydrator from various vendors.
By matching your dehydrator to the rest of your kitchen, everything will flow more evenly. Now you can keep it on your counter top instead of hiding it every time that you are done using it. Your dehydrator becomes part of the kitchen in more ways than one.
Finding a Reputable Vendor
There are a lot of vendors out there that have the ability to sell you a stainless steel dehydrator. You want to know that you are getting one from a reputable company that will back up their product. In fact, part of this is making sure that everything you get in your package is exactly what you are expecting.
Some companies will buy products wholesale, directly from the vendor. They can pass on these savings to you so that you can have more purchasing power. Usually the way that you will save the most is by purchasing your product online. That is because those companies will not have to pay for a storefront. Instead, they are able to warehouse the products until you purchase it, shipping it directly to you.
Keep things matching in your kitchen and save money in the process. Purchase your dehydrator from a reputable online vendor that will not only help you to save money, but they will make sure that you are getting a good quality product.
At Harvest Essentials, we aim to give you the best price for the most popular items available today. Call us or order online, remember that all orders over $89 qualify for free shipping. Call to get information on a stainless steal dehydrator today.