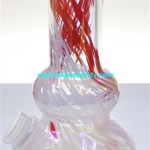 If you are new to the world of glass pipes, a steamroller pipe is not one that is highly recommended. Why? Simply because if you opt to start with glass steamroller pipes, chances are you will feel as though you were hit with the pipe's namesake, a steamroller, after you smoke. There are some smoking veterans who have equated the experience of using glass steamroller pipes to that of dry bongs: a hit with no type of cooling effect or any filtration from water.
How do Glass Steamroller Pipes Work?
Glass steamroller pipes are a hollow tube that has openings at both ends. At one of the open ends you will find a bowl, which is where you place the tobacco and light. To use this type of pipe, you will follow these steps:
*  Load your choice of tobacco into the bowl.
*  Cover up the pipe's end that is near the bowl with your hand and then place the other end of the pipe into your mouth.
*  Light the tobacco and then inhale until you see smoke filling the pipe's chamber.
*  Take your hade from the hole and inhale the smoke that has accumulated.
Using a Steamroller versus a Traditional Pipe
Pipes provide you with a direct feed, which offers a gradual amount of smoke. However, with glass steamroller pipes, the smoke will accumulate, and then you will take one, large drag. There is a downside to using these pipes, which is the fact that they are a bit rougher on your throat. This means that having a coughing fit after you use it will be expected.
Tips for Selecting Glass Steamroller Pipes
When it comes to glass steamroller pipes, this is perhaps the easiest part of the experience. These are extremely simple devices, and therefore you will not have that much to consider. Some general advice that will help you make your decision includes:
First of all find a pipe that is made completely of glass. This is because these will not produce any type of foul fumes or aftertaste that is sometimes created by a metal pipe. Additionally, you will be able to see the amount of smoke that has accumulated in the actual chamber before ever actually inhaling anything.
You should also look for the right size pipe. A general rule of thumb is that you start smaller and then purchase a bigger one when you are comfortable with the process. If you have never used glass steamroller pipes before, then chances are you will be extremely surprised by the amount of smoke that they produce. Gradually increasing the size of the pipe that you use will ensure a pleasant experience.