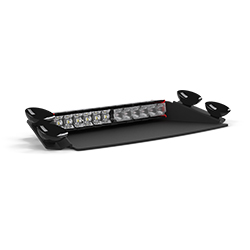 Emergency responders working in rural or off road conditions will have special lighting needs. The array of lighting options for off road conditions is practically limitless, including red light bars, strobes, and flood beams for additional safety and functionality.
1. Scene Lights. Off road emergencies tend to occur in areas without street lights, which naturally requires the use of scene lighting. First responders will use off road scene lights to illuminate the situation and therefore, the lights need to be convenient and able to plug into vehicle electrical systems as through the cigarette lighter. Off road red light bars can supplement scene lights by helping all parties accurately identify the emergency vehicles and first responders.
2. Red Light Bar. Off road conditions demand that emergency vehicles and trucks be equipped with safety lighting. Even in non-emergency situations, red light LED bars for trucks add a level of unparalleled safety and protection because of the way they enhance visibility. In winter conditions, an off-road LED red light bar can save lives, making a truck or any other vehicle more visible to oncoming traffic or wild animals.
3. See and Be Seen. Off road LED lighting includes options for seeing as well as being seen. Scene lights help a driver to shed light on a situation, providing flood lights for working on a situation like responding to an accident. However important it is to see the situation, it is also critical to be seen, to provide ample warning to other cars on the roads.
4. Indoors and out. To be effective, off road lighting needs to operate in any and all conditions. The light itself needs to penetrate rain and fog, and either be waterproof and weatherproof or be mountable from the inside of the vehicle and still bright enough to be visible from outside. Off road LED red light bars can be mounted inside and out.