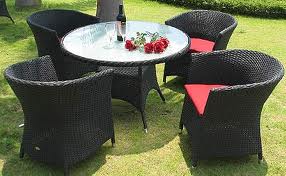 When you take up home re-decoration, you should clearly understand the difference between the indoor and outdoor furniture. Indoor and outdoor furniture are to be installed in two different places. Simply put, indoor furniture needs to be used indoors while outdoor furniture has been designed for the outdoors. Outdoor furniture is usually placed in the backyard or the patio. The indoor furniture, being kept inside the house, is insulated against outside harms like harsh sunlight and other extreme climatic conditions. On the other hand, outdoor furniture is prone to easy damage caused by extensive and prolonged exposure to sunlight, rust, storms and rainwater.
Though indoor and outdoor furniture both need to be taken care of, outside furniture needs more attention. Such furniture requires special attention and they are high on maintenance. Regular polishing is required to keep your outdoor furniture in a perfect condition. If your outdoor furniture is of wood, then it needs even more attention. Wooden artefacts and other pieces of wooden furniture need to be protected against bugs, mildew and insects. Apart from this, wooden furniture also needs to be protected from the wrath of nature.
The cleaning process that you adopt to clean your wooden furniture needs to be relevant and scientific. You should not just pick up any polishing product from the market and use it on your wooden furniture. If you want to use home-made stuff, then you can use dish washing elements, bleach or any other mild detergent mixed with water to clean your wooden furniture. There are special cleaning and polishing products created to restore indoor and outdoor furniture from harsh sunlight and heavy rains.