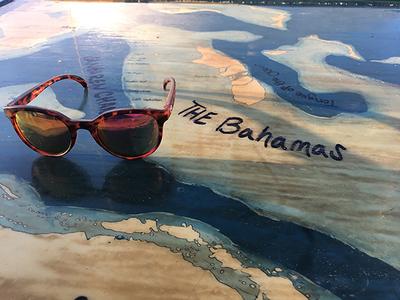 Fun on the water is seasonal for some and a way of life for others. Whether you're an adventuring warrior or a professional guide, the right gear is essential to your comfort and efficiency. When it's time to counteract glare and maintain pristine visibility on the water, Rheos Gear is your go-to brand. We make sunglasses that float in the water, flatter your face and complement your outdoorsy wear.

Lightweight, Unisex and Timeless

Sunglasses that can float in the water are a joy to manufacture and share with passionate adventurers like you. The secret isn't a secret at all: it's TPX, our specialty material. It's 30 percent lighter than similar sunglasses made of polycarbonate, yet it's durable enough to withstand daily use in a wide range of outdoor rec and water-oriented activities.

Since TPX is so inherently lightweight, our sunglasses generally weigh less than the amount of water they displace, which causes them to float. It's the simplest of science. It makes for reliable, sturdy eyewear that floats right back to you during high-octane paddleboarding, kayaking, parasailing and fishing excursions.

More than Floating Sunglasses

Our company name comes from the Greek work for river current, a reference to evolution, motion, nature, power and beauty. We try to incorporate these ideas into every pair of sunglasses we make.

Our roster boasts tons of colorways and dozens of silhouettes, including universal classics like wayfarers, square and round frames. Our lenses are polarized to cancel out blinding glare. A series of lens coatings provide protection against scratching, salt water and oil while ensuring that condensation beads quickly and rolls off.

Our sunglasses also feature anti-fog coating that keeps the lenses pristine and translucent on less-than-sunny days or in damp environments. UVA and UVB protection shields your eyes from rays above 400 nanometers, the UV ray range that is the most destructive to your eyes.

Explore Rheos Gear today, and snag a few pairs of feather-light, timelessly elegant sunglasses that float in water.